Infini-D Learning Privacy Policy
---
Last updated: Aug 29, 2023
At Infini-D Learning, we take data privacy very seriously, particularly when it comes to student data. This privacy policy will go into further detail on how and why we collect data, but we think what's most important are our basic privacy tenets:
We only collect, store, process, or share student information that is needed for authorized education/school purposes, or as authorized by the parent/student.

We will never sell any personal data under any circumstance
You own your data. You are allowed full access to your data and can request it be deleted at any time
Infini-D Learning is committed to protecting users' privacy while providing a personalized and valuable learning experience. As an organization, we are committed to ensuring the security and confidentiality of your information. In the following sections of our privacy policy, we will provide comprehensive details of how we handle and safeguard your data. We encourage you to continue reading to gain a thorough understanding of our practices and the measures we take to uphold your privacy rights. If you have any questions about our Privacy Policy you may contact us at privacy@infinidlearning.com.
Use of Infini-D Learning is subject to this Privacy Policy, the Infini-D Learning Terms and Conditions, and any applicable separate agreement signed between Infini-D Learning and you.
Student Privacy Pledge
Infini-D Learning is a proud signatory of the Student Privacy Pledge. By committing to this pledge, we agree to a set of principles intended to safeguard student privacy, including responsible stewardship, protection, and transparent handling of student personal information. Read more about the Student Privacy Pledge here.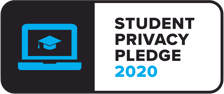 The School Environment
Collectively, the classroom, teachers, and school and district administration and employees/agents are referred to in this Privacy Policy as the "School Environment."
Infini-D Learning is specifically designed for classroom use, which means that certain information collected is intended to be shared within the School Environment. This includes product-related or class-related activities, information, or communications that may be visible to anyone present in the classroom. Additionally, specific information may be accessible to other teachers, school administrators, and employees within the same educational institution. The sharing of such information is subject to both our privacy policy and the privacy policies of the relevant educational institutions. If users have any questions or concerns about the sharing of this information within these policies, we recommend contacting the relevant educational institutions for further clarification.
Infini-D Learning has implemented security measures to ensure that this data will not be shared outside the School Environment, except as outlined in this Privacy Policy.
What we Collect
Personal Information
Infini-D Learning does not collect, maintain, user, or share student personal information beyond that needed for authorized educational/school purposes, or as authorized by the parent/student. The specific information collected depends on the user type (i.e. teacher/student). The following tables show the information that we collect for each user type
Students
| | | |
| --- | --- | --- |
| Type of Personal Information Collected | How the data is collected | How the data is used |
| First and Last Name | Entered by Teacher or Student, or imported by School Administration | Used only within the platform to identify the student for users of the platform |
| Student ID number assigned by the district | From applications used for single sign-on and for class rostering such as Google Classroom, Canvas, or proprietary software used by the district | Used only within the platform |
| Student ID number assigned by the app | Assigned by the application | Used only within the platform |
Teachers
| | | |
| --- | --- | --- |
| Type of Personal Information Collected | How the data is collected | How the data is used |
| First and Last Name | Entered by Teacher or imported by School Administration | Used within the platform, to communicate with teachers, and identify them in supporting systems |
| Email | Entered by Teacher or imported by School Administration | Used within the platform, to communicate with teachers, and identify them in supporting systems |
| Teacher ID number assigned by the app | Assigned by the application | Used only within the platform |
Cookies
Cookies are small data files that are commonly stored on your device when you use websites and online services. They are widely used to make websites work or to work more efficiently, as well as to provide reporting information and assist with services or personalization. There are also other technologies that are similar to cookies, which may store a small amount of data on your device ("local storage").
Infini-D Learning uses the following types of cookies and local storage (collectively called "Cookies" herein);
Performance and functionality Cookies: These Cookies help us to personalize and enhance your user experience. For example, they may help us to remember your preferences and prevent you from needing to re-enter information more than once or to remember your id and password so that you do not have to enter them each time you use our services.
Infini-D Learning does not use cookies for advertising purposes
If you wish to disable the use of Cookies, you may do so from the browser preferences menu of your browser by either turning off Cookies or by using your browser's privacy mode when using our services.
What we do with Collected Information
Infini-D Learning will never sell any personal data under any circumstance. We will never allow the data we collect and/or maintain to be used to provide targeted advertising to students. We will use the student data you provide to provide our services to your school or school district. We will not keep the student data after you or the school district instructs us to delete it. You may not disclose or otherwise use the student data entered on this site for any unauthorized purposes.
We will only disclose student data to authorized employees or representatives of the school district, and will not knowingly disclose the student data to any third party without express written authorization. When, at the request of the district, we acquire assessment or other information, including personally identifiable student data, from a third-party source we treat that information with the same confidentiality and security safeguards as though it were provided directly by the district. Additional agreements may be required by the third party to authorize the transmission of data to Infini-D Learning.
Collected information is used for the following purposes:
To allow the teacher to manage and play the game;
To allow students to play the game;
To allow teachers and students to compare individual student performance against aggregate results from within that student's class;
To provide analytic data to teachers and school administrators;
For software support purposes; and
For billing purposes.
Certain information about you or activities you perform on Infini-D Learning may be displayed publicly, for example, high scores you have achieved, or Question Groups you have created may be visible to others. Whenever possible, we provide you with choices about the privacy of your information on Infini-D Learning. We provide you the ability to control who can view the content you have created on Infini-D Learning. In some cases, we may not be able to remove your personal information, in which case we will let you know if we are unable to do so and why.
Infini-D Learning does not share personally identifiable information outside the School Environment, except for those purposes stated within this document, without first obtaining the express written consent of the individual. Collected information in aggregate form, whereby individual users are not identifiable, is used for the following purposes:
For statistical purposes;
For research;
For strategic development and business management;
For marketing purposes related to Infini-D Learning; and
For customer support purposes.
Security Safeguards
We are committed to protecting student data against unauthorized access, destruction, use, modification or disclosure. Protecting student data requires efforts from us and from you. We will implement reasonable and appropriate safeguards when collecting student data from you and when storing that student data in our database and you will observe our security safeguards and exercise reasonable caution when using this site.
Specific institutional and technological security safeguards include:
Only Infini-D Learning employees who are authorized to handle student data are able to access the data
Only school district employees and representatives that the district authorizes as school officials are permitted to access the system. It has a hierarchical permissions system. This means:

A teacher will only be able to see data for his/her classes
A Principal, Coach, or other authorized School User will be able to view all data at the school level
An authorized district-level employee, such as an Instructional Coordinator or Superintendent, will be able to see all data for the district

You must safeguard your User Id and Password, and not permit any unauthorized access to student data entered or kept in Infini-D Learning's
Upon written request by the district, Infini-D Learning will destroy any student data for districts that no longer participate in Infini-D Learning. Infini-D Learning will provide written verification that the data has been destroyed as requested.
If a district has not used any Infini-D Learning product for a period of two years, Infini-D Learning will provide written notice that the student data pertaining to their district will be destroyed, unless the district requests the records be kept. Upon destruction, Infini-D Learning will provide written verification that the data has been destroyed
Infini-D Learning uses industry-standard server and network hardware and software to ensure that data is protected from unauthorized access
Although we make concerted good faith efforts to maintain the security of personal information, and we work hard to ensure the integrity and security of our systems, no practices are 100% immune, and we can't guarantee the security of information. Outages, attacks, human error, system failure, unauthorized use, or other factors may compromise the security of user information at any time. If we learn of a security breach or other unauthorized disclosure of your Personally Identifiable Information, we will attempt to notify you so that you can take appropriate protective steps by posting a notice on our homepage (www.infinidlearning.com) or elsewhere in our Service and we will send an email to you at the email address you have provided to us. Additionally, we will notify the primary administrative contact at your school or district by email and telephone and assist with their efforts to ensure your notification.
Any such notice will include:
The date of the breach.
The type of information that was subject to breach.
General description of what occurred.
Steps we are taking to address the breach.
The contact person with our Company whom you can contact regarding the breach.
If you are a parent, legal guardian, or eligible student and unauthorized disclosure of your student's Personally Identifiable Information occurs, we will notify you by email at the email address we have on record for you or through notice to your school or district's primary administrative contact in the event that we do not have an email address on record for you.
When you use this site, you consent to our privacy practices and agree to accept the responsibilities outlined in this statement.
Data Access
At Infini-D Learning, we believe that you own your data, and we, therefore, value the importance of granting parents and students access to their personal information. Parents or eligible students can request access to review and correct their student's data by contacting us using the provided contact information. We are committed to promptly addressing these requests and assisting individuals in ensuring access to and the accuracy of their information.
Deletion of Student Records
Student records are deleted 12 months after the end of their last class within the product. Parents and students over the age of 18 can request to have their account, or the account of their child, and related information deleted from the Infini-D Learning database by contacting privacy@infinidlearning.com.
Compliance with Privacy Laws
FERPA
As a trusted third-party vendor, Infini-D Learning is committed to adhering to FERPA, recognizing our role as a 'school official' under FERPA regulations. Safeguarding the confidentiality and privacy of student data is our top priority, and we maintain strict measures to handle personally identifiable information obtained from education records securely. Educational institutions can trust us to handle student data responsibly and in accordance with FERPA regulations.
COPPA
At Infini-D Learning, we are committed to complying with the Children's Online Privacy Protection Act (COPPA) regulations. As part of our adherence to COPPA, we rely on the consent of the educational institution in lieu of parental consent for the collection and use of personal information from students. We prioritize the protection of children's privacy while providing educational services within the boundaries of the institution's authorization.
Disclosure of Information to Satisfy Legal Obligations
Classcraft may disclose personal information if we have a good faith belief that doing so is necessary to comply with the law, such as complying with a subpoena or other legal process. We may need to disclose personal information where, in good faith, we think it is necessary to protect the rights, property, or safety of Classcraft, our employees, our community, or others, or to prevent violations of our Terms of Use or other agreements. This includes, without limitation, exchanging information with other companies and organizations for fraud protection or responding to government requests.
Successor Entities
In the event of any future acquisition or succession of Infini-D Learning, the successor entity will be required to adhere to the same principles outlined in the Student Privacy Pledge (2020 version). This means that user information will either be handled in accordance with the Pledge principles or users will have the option to choose whether their information is transferred to the future entity or deleted.
Changes and Updates to the Privacy Policy
This Privacy Policy is effective as of June 12, 2023. Infini-D Learning may, at its sole discretion, update, revise, modify, and/or supplement from time to time this Privacy Policy. Should we make modifications to this policy, we'll post a notice that you will receive when you login to the Product and/or we will send an email directly to you with a copy of the new documents prior to adopting any such modifications. Infini-D Learning's updated Privacy Policy and User Agreements will also be posted on Infini-D Learning's corporate website. Infini-D Learning asks users to review the updated Privacy Policy and/or User Agreements before continuing to use our services. If users do not accept the updated Privacy Policy, users can cancel their subscriptions. The user's continued use of the services provided by Classcraft after the updated Privacy Policy takes effect will constitute the user's acceptance of the updated Privacy Policy.
Contact
If you have any questions, concerns, or inquiries about our Privacy Policy, our use of your Personally Identifiable Information, or our privacy practices, please contact us:
We are here to address any queries you may have and provide you with the necessary assistance.